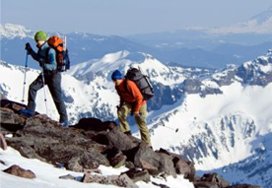 People from around the world visit Himachal to do trekking and explore the hidden jewels of Himalayas and to walk on the less travelled paths. A person figures out about life, self being and nature when a person is trekking.

Many Trekking Routes are available in Manali. Major treks in manali are Beas Kund Trek, Bhrigu Lake Trek, Chandrakhani Trek, Chandra Taal Trek and many more. The check list of the equipments required for trekking in manali includes of Comfortable walking shoes with a good grip on the ankles. Water proof warm jacket.Woolen / tennis scocks and stockings. Sunglasses, headgear, rucksack and other bags too if you plan to hire porters and ponies.

Water- Bottle, Swiss army Knife, Sleeping Bag and foam ground sheet, Gloves, umbrella, rope, Medical and first aid equipment. Photographic Equipment, Torch and batteries, tent, Compass, Binoculars, cooking Equipments, food and rations.Fresh Fruits, vegitables, meat and milk are rarely in short supply along the trails apart from higher reaches and parts of the trans Himalyas.